E-books / Fantasy & Sci-Fi
---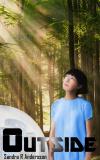 E-book
Outside
10-year-old Lee lives with her family and about a hundred thousand others in a dome that keeps them safe from all the dangers of the Outside. Usually, every day in the dome is pret ...
---
E-book
Konrad and the Christmas Painting
Christmas is only a couple of weeks away. Ms. Gundersen is in love, Philip is polite and helpful, and the world seems to be on a tilt-a-whirl when Konrad tries to readjust to reali ...
---