E-books / Fantasy & Sci-Fi
---
E-book
Kampen om Tusenvärld - Dunkelstjärnan
Tolvåriga Julia märker direkt att någonting med hennes nya klasskamrat, flyktingpojken Kasir, inte stämmer. Men hon anar inte helt hur annorlunda han är förrän den ödesdigra natten ...
---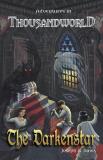 E-book
Adventures in Thousandworld - The Darkenstar
When the refugee boy Kasir appears in the little Swedish town of Klippsby, twelve-year-old Julia realises at once that something about her new classmate is a bit strange. But she d ...
---