E-books / 6-9 years
---
E-book
Rolf at the football game
Nu finns "Rolf på fotboll" på engelska. Rolf älskar fotboll och stannar för att titta. Men något är fel. Bollen går bara i ribban. Rolf måste fixa det ... Lättlästa böcker från Nyp ...
---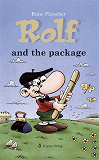 E-book
Rolf and the package
Nu finns "Rolf får ett paket" på engelska. Rolf är glad. Han har hämtat ett paket. Det är från mamma. - Vad kan det vara? Jag måste skynda mej hem och öppna det, säger Rolf. Lättlä ...
---