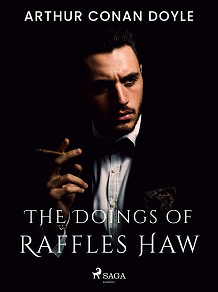 The Doings of Raffles Haw
Siblings Robert and Laura McIntyre have fallen on hard times following the death of their mother and their father's subsequent descent into alcoholism, which is bankrupting the family. Their fortunes appear to be on the up though following the arrival of a mysterious, eccentric, and wealthy new neighbour called Raffles Haw. An insightful, moralistic tale about the corrupting nature of extreme wealth from renowned Sherlock Holmes author Sir Arthur Conan Doyle.

Sir Arthur Conan Doyle (1859-1930) was a British author, best known as the creator of the world-famous detective Sherlock Holmes. Born in Edinburgh, he was educated in England and Austria before studying medicine at the University of Edinburgh. It was during his time at university that Doyle began writing short stories, submitting them to magazines and journals. His first Sherlock Holmes novel, 'A Study in Scarlet' was written in just three weeks and published in 1887 to favourable reviews, and more Sherlock adventures followed. By 1893, Doyle was growing tired of Sherlock and attempted to kill him off in the story 'The Final Problem', but public outcry caused him to resurrect the famous detective. He featured in a total of 56 short stories and four novels along with his trusty sidekick Dr Watson and made Doyle one of the best-paid authors of the time. The stories have been adapted multiple times; most recently in the successful BBC series 'Sherlock' starring Benedict Cumberbatch and Martin Freeman. Later literary works included the Professor Challenger series which began with 'The Lost World', in which Challenger sets out to find evidence of prehistoric life. The book inspired numerous adaptations, including the films 'Jurassic Park' and 'The Lost World'. In later life Doyle became captivated by the world of spiritualism and the occult and published non-fiction works about his beliefs including 'The Coming of the Fairies'. Arthur Conan Doyle died at home in 1930.
---