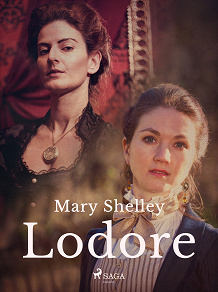 Lodore
Challenged to a duel, Lord Lodore must make a life-changing decision, one that will split his family in two.

His daughter Ethel, raised to depend on her father, and Cornelia, Lodore's estranged wife, must leave behind all they ever knew to survive.

Mary Shelley's dramatic novel 'Lodore' (1835), tells the story of Ethel and Cornelia's long road to reconciliation. One that takes them to Niagara Falls, Italy, England and the brink of destitution.

The book portrays the education and social role of women in Victorian society. Also published under the title 'The Beautiful Widow', it is Shelley's penultimate novel.

Mary Shelley (1797–1851) earned her place in the pantheon of British novelists with her ground-breaking Gothic novel 'Frankenstein' (1818). Considered one of the first true works of science-fiction, the book became an instant bestseller. But she was far from a one-hit-wonder, producing a host of other novels, including 'Valperga', 'Perkin Warbeck' and 'The Last Man'. Most were not well received in her lifetime, though, only being fully appreciated from the 1960s.
She moved in a circle of famed 19th-century writers and philosophers. She was married to the poet Percy Bysshe Shelley and spent time with Lord Byron. Her mother was the philosopher and feminist activist Mary Wollstonecraft and her father was the political philosopher William Godwin.

Mary Shelley's work has been adapted for TV, stage and film on many occasions, with Boris Karloff famously playing Frankenstein's monster on screen in 1933. Other adaptations include 'Mary Shelley's Frankenstein' (1994) starring Kenneth Branagh and Robert De Niro and 'Viktor Frankenstein' (2015) starring Daniel Radcliffe and James McAvoy. Most recently, Elle Fanning portrayed Mary in Haifaa Al-Mansour's film 'Mary Shelley' from 2017.

---