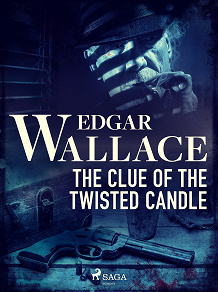 The Clue of the Twisted Candle
In this thriller, Wallace introduces us to John Lexman a formidable mystery writer who is lured in to a murder plot only to be betrayed and thrown in prison. Lexman's intrepid Detective friend T.X Meredith is on the case to prove his friend's innocence but before he can, Lexman disappears from prison. It is a breathless thriller, packed with brilliant characters and stunning plot design typical of Wallace's formidable writing. Wallace weaves an intriguing plot, romantic interests and unexpected plot twists in to a potent thriller perfect for anyone with a love for classic gangster movies.

Edgar Wallace (1875-1932) was an English writer, poet and journalist. He was such a prolific writer that his publisher claimed his work could account for a quarter of all books sold in England. He wrote countless books, screenplays, poems and historical non-fiction, spawning over one hundred and sixty films based on his work. He unfortunately passed away suddenly before he could see his most famous creation 'King Kong' come to life. It has been adapted several times over the years, notably by Peter Jackson of Lord of the Rings fame, and more recently in 'Godzilla vs Kong' starring Millie Bobby Brown.
---