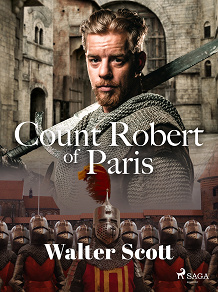 Count Robert of Paris
'Count Robert of Paris' is Walter Scott's penultimate novel from his celebrated 'Waverley' series. It is a historical novel set in Constantinople during the First Crusade. The story revolves around the titular Count Robert who is captured by the Byzantine emperor and challenged to a duel to the death. Count Robert and his friend Hereward must escape their treacherous captors and reunite with their true loves, but they face many dangerous challenges along the way. This novel is a gripping read, brimming with romance, power struggles, political intrigue, and fanaticism that threatens to destroy the very foundations of civilization. Scott's incredible romantic prose is on display in this tale as he elegantly describes Byzantine Constantinople. The historical aspect of the story focuses on the clash between cultures as Scott poetically displays the precarious relationship between the crusaders and the Byzantine emperor. This novel is a thrilling adventure through the streets of exotic Constantinople and should be read by fans of historical fiction.

Walter Scott (1771 – 1832) was a Scottish writer, poet, and historian. Fascinated by traditional storytelling, during the 1790s Scott dedicated himself to researching and collecting ballads and published the epic collection 'Minstrelsy of the Scottish Border' in 1802. A prominent poet, Scott also wrote and published a range of poems, including the popular 'The Lady of the Lake.' His first historical novel 'Waverley' was published in 1814, whereupon it was an immediate success, receiving critical acclaim and selling out many printings. His best-known work 'Ivanhoe' followed in 1820. Scott died in 1832 at the age of 61. He was commemorated after his death with monuments in Edinburgh, Glasgow, and New York due to his impact on western literature. His literary works influenced and inspired many other great authors such as Virginia Woolf. Internationally renowned, Scott's literary legacy continues to be felt all over the world to this day.
---