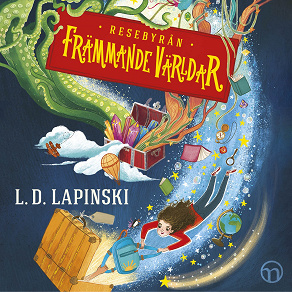 Isbn:
978-91-8023-986-8
Publisher:
Modernista
Category:
Children's books
9-12 years
Accessible since:
April 2022
Narrator:
Lo Tamborini
Length: 8 hours 27 minutes
---
Resebyrån Främmande Världar
Packa dina väskor för ett magiskt äventyr!
»Ett fenomenalt, fantastiskt äventyr.« The Sunday Express
»Självsäker, rolig & påhittig. En framtida klassiker.« The Guardian
När tolvåriga Flick Hudson av misstag hamnar på Resebyrån Främmande Världar upptäcker hon en fantastisk hemlighet. Det finns hundratals andra världar förutom vår egen. Och inte nog med det. Flick blir erbjuden att gå med i Sällskapet för Främmande Världar så att hon själv kan följa med och utforska dem!
Det Flick inte vet är att alltings mittpunkt, staden Femlykta, är i stor fara. Byggnader och hela gator försvinner. Spårlöst. När Flick förstår vad som håller på att hända måste hon ge sig ut på en resa genom outforskade världar och på en kapplöpning mot tiden. . .
L. D. LAPINSKI är en brittisk barnboksförfattare, bosatt utanför Sherwoodskogen i England tillsammans med sin familj och katten Hector. Resebyrån Främmande Världar – den första boken i hennes serie om den magiska Resebyrån och dess resesällskap – har gjort stor succé världen över.
Listen to sample
---