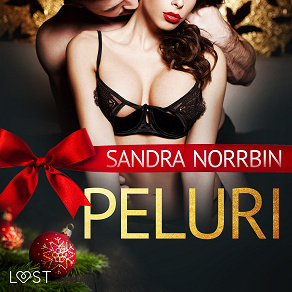 Isbn:
978-87-2637-035-5
Publisher:
LUST
Category:
Short stories
Romance
Erotic
Accessible since:
September 2021
Narrator:
Marja-Liisa Kumpulainen
Length: 32 minutes
---
Peluri - eroottinen joulutarina
Joulu on lähellä. Carl ottaa yhteyttä Helenaan ja kertoo, että hänellä on Helenalle lahja. Helena ei voi uskoa sitä. Hän on odottanut ikuisuuden Carlia, joka katosi hänen elämästään.

The Bull and Bear -ravintolassa Helena näkee Carlin. Mies odottaa häntä. He pääsevät nopeasti Carlin hotellihuoneeseen, jossa he tutkivat taas toisiaan. Hänen kalunsa tuntuu yhtä hyvältä, kuin Helena muisteli. Mutta kun Helena sitoo Carlin sänkyyn, kaikki muuttuu, eikä Carl tule koskaan unohtamaan tätä kokemusta...

Sandra Norrbin keskittyy teksteissään naisten seksuaalisuuteen yhteiskunnan normeista ja odotuksista välittämättä. Laajojen BDSM- ja parinvaihtoyhteisöjen verkostonsa kautta hän löytää aina ideoita uusiin eroottisiin tarinoihin.
Listen to sample
---