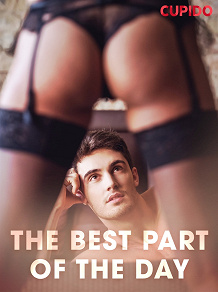 The Best Part of the Day
The young couple. The first time. Naughty flirting. The secret, forbidden meeting. The young student and his teacher. The older gentleman and the innocent virgin. You, me and a friend.

This is an erotic short story collection from Cupido. The collection includes the following short stories:

"He is getting happier and happier as a result of the research he is conducting on himself. But has he come far enough? Then he meets unreserved Sif..." Champagne and Violins by John Ledet

"The cleaner was handsome and well groomed. It's nice having someone come in in the morning." - The Best Part of the Day by Irene

'Little wisps of pubic hair lie spread beneath her on the floor. Then she hears the doorbell. It's the window-cleaner, who's come with the bill." Just a Little Reminder by M. Nyborg

"Inside her wet pussy, the two balls moved around heavily. They lived their own strange life while she took the lift down to the platform with the man she'd seen on the flight." Good Girl by Jessica Cook

CUPIDO – the magazine for intimate, horny pleasure – has been publishing erotic fiction based on readers' everyday fantasies and sexual experiences since 1984.

---