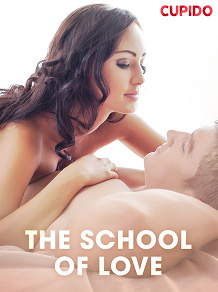 The School of Love
The young couple. The first time. Daring flirtations. The secret, forbidden meeting. The young student and the teacher. The older gentleman and the innocent maiden. You, me and a friend.

This is an erotic short story collection from Cupido. The collection includes the following short stories:

"He was eighteen and had never been kissed. Luckily, his older brother had a girlfriend who understood his situation." - The School of Love by Jørn M. Dahl, Holstebro

"They were on holiday in a cabin with her parents. They were afraid they'd disturb someone, but it was so hard to sleep." - A Long Kiss Goodnight by R. Carol

"Back when he was doing his A-levels he once got pulled into a stairwell by a girl. He was devoted and powerless." - Suck by Robert, Copenhagen

"It was the first time they were alone together. Parents on vacation is a great invention!" - The Joy of Sex by Somonas, Oslo

CUPIDO – the magazine for intimate, horny pleasure – has been publishing erotic fiction based on readers' everyday fantasies and sexual experiences since 1984.

---