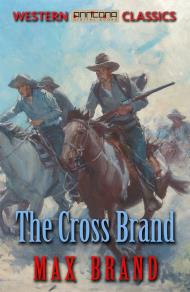 E-book
|
28 days for loan
The Cross Brand
The Cross Brand
Sheriff Harry Ganton and Jack Bristol have been friends since they were young. But then Jack Bristol shot the sheriff and stole his horse. He rode off, not into the sunset, but into the mountains.

The mountains held him captive for months and then released him, only to have him run into two mysterious hardcases, one of whom has a cross brand on his forehead...

Our hero, branded in this way, must decide if he should become what they think he is or be true to himself. A Western take on the story of Kane and Abel.

The Cross Brand was first published in 1922. This edition is unabridged. Also available as audiobook, (TRT): 3 hours and 56 min. Read by David Wales.

Max Brand was the pen name for Frederick Schiller Faust (1892-1944) who was an American author known primarily for his thoughtful and literary Westerns.
---