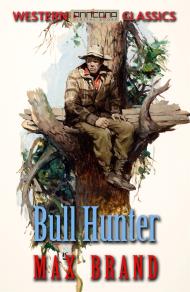 E-book
|
28 days for loan
Bull Hunter
Bull Hunter
Bull Hunter was a man who could rip a tree trunk from the ground with his bare hands or tame the wildest stallion with his kind manner. Nobody west of the Pecos would have dared run afoul of the mighty frontiersman.

But Pete Reeve didn't have the reputation of a dead shot because he relied on his common sense. Then Bull and Pete crossed paths, and townsfolk from Cheyenne to San Antonio braced for the battle.

Bull Hunter was first published in 1921. This version is unabridged. Also available as e-book (TRT): 5 hours and 40 min. Read by Richard Kilmer.

Max Brand was the pen name for Frederick Schiller Faust (1892-1944) who was an American author known primarily for his thoughtful and literary Westerns.
---