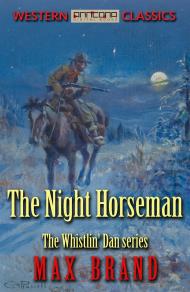 E-book
|
28 days for loan
The Night Horseman
The Night Horseman - Whistlin' Dan #2
A man, a dog, and a horse. The call of the wild geese. A very smart doctor from the east who finds there is a lot to learn from these desert people. A woman loved by three men. A gunslinger who has a debt to settle.

Max Brand brings them all together in another one of his over three hundred exciting western tales. Brand is not your typical western writer. A great horse story coupled with the typical excitement one expects from Max Brand makes this a great book.

This is the second book about Whistlin' Dan (Dan Berry.) Dan is the total nature man, with the strength and cunning of a panther. He and his horse and wolf-dog communicate with one another marvelously, but he sure doesn't know how to relate to people well…

The first novel about Whistlin' Dan is The Untamed (1919.) The Night Horseman (1920) is followed by The Seventh Man (1921) and Dan Barry's Daughter (1923). This edition is unabridged. Also available as Audio book (TRT: 9 hours, 41 min.) Read by Richard Kilmer.

Max Brand was the pen name for Frederick Schiller Faust (1892-1944) who was an American author known primarily for his thoughtful and literary Westerns.
---