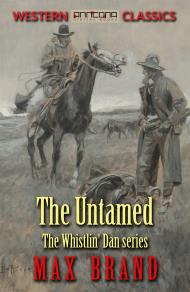 E-book
|
28 days for loan
The Untamed
The Untamed - Whistlin' Dan #1

Whistlin' Dan Berry is one of the most interesting characters in Western fiction. With uncanny abilities he controls a wild stallion, appropriately named Satan, and a ferocious wolf dog, Black Bart. Easy going, Berry proves absolutely unforgiving when physically assaulted by a feared, vicious outlaw, Jim Silent. Seemingly without any emotions, Whistlin' Dan is relentless in his vengeful search for Silent and his outlaw gang.

This is the first book about Whistlin' Dan (Dan Berry). Dan is the total nature man, with the strength and cunning of a panther. He and his horse and wolf-dog communicate with one another marvelously, but he sure doesn't know how to relate to people well… The Untamed was followed by The Night Horseman (1920), The Seventh Man (1921) and Dan Barry's Daughter (1923).

The Untamed was first published in 1919 in All Story Weekly as a six-part serial. The novel was made into a motion picture starring Tom Mix in 1920. This version is unabridged. Also available as audiobook (TRT): 7 hours, 26 min. Read by Richard Kilmer.

Max Brand was the pen name for Frederick Schiller Faust (1892-1944) who was an American author known primarily for his thoughtful and literary Westerns.
---