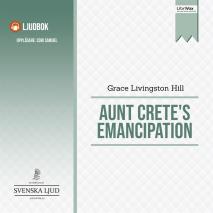 Isbn:
978-91-7639-505-9
Publisher:
Svenska Ljud Audioförlag
Category:
Children's books
Accessible since:
May 2018
Narrator:
Cori Samuel
Length: 2 hours 40 minutes
---
Aunt Crete's Emancipation
Aunt Lucretia — 'Crete' to her family — is a sweet, patient older woman, who lives with her narrow-minded sister and spoilt niece, acting as their unpaid and unappreciated domestic servant. When they leave town in order to avoid the unexpected visit of a "backwoods" cousin, she is left at home to welcome him. She's willing to love him whatever he's like, and he's looking for a home having lost his mother years before, so the two are ready to become fast friends. But what does that mean for Aunt Crete's prejudiced relatives and how can their wrongs against her be remedied? Grace Livingston Hill was an early 20th century novelist. She wrote over 100 novels and numerous short stories. Her characters were most often young female Christian women or those who become so within the confines of the story.
Listen to sample
---