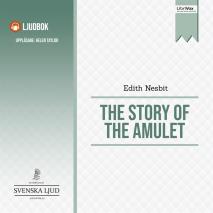 Isbn:
978-91-7639-485-4
Publisher:
Svenska Ljud Audioförlag
Category:
Children's books
Accessible since:
May 2018
Narrator:
Helen Taylor
Length: 6 hours 57 minutes
---
The Story of the Amulet
The third of the series featuring Cyril, Anthea, Robert and Jane: four children who are, as they often say, "the sort of people that wonderful things happen to". In 'Five Children and It' they were lucky enough to meet the magical, wish-granting Psammead - and in this final book they meet him once again. He guides them to an ancient Amulet that will help them find their hearts' desire - but it's only half an amulet, and seeking for the other half has them whizzing about through time on another series of amazing adventures. Edith Nesbit (married name Edith Bland) was an English author and poet whose children's works were published under the name of E. Nesbit.
Listen to sample
---