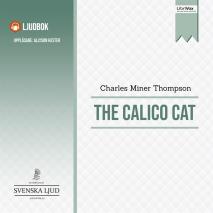 Isbn:
978-91-7639-469-4
Publisher:
Svenska Ljud Audioförlag
Category:
Children's books
Accessible since:
May 2018
Narrator:
Allyson Hester
Length: 2 hours 30 minutes
---
The Calico Cat
This is a cute story of a mysterious feline annoyance and the result of a man acting upon his annoyance. The cat begins a vicious spiral of events that ends with lies, the arrest of a boy, and the guilty conscience of a man. Charles Miner Thompson was an American journalist, editor of the Youth's Companion. He wrote: The Nimble Dollar, Life of Ethan Allen and An Army Mule among other titles.
Listen to sample
---