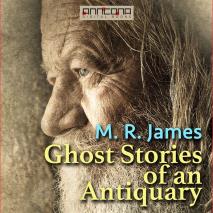 Isbn:
978-91-7759-419-2
Förlag:
Anncona Media
Kategori:
Noveller
Fantasy & SF
Tillgänglig sedan:
februari 2018
Uppläsare:
Peter Yearsley
---
Ljudbok
|
28 dygns lånetid
Ghost Stories of an Antiquary
Ghost Stories of an Antiquary is a collection of ghost stories by English author M. R. James.
M. R. James wrote many of his ghost stories to be read aloud in the long tradition of spooky Christmas Eve tales. His stories often use rural settings, with a quiet, scholarly protagonist getting caught up in the activities of supernatural forces. The details of horror are almost never explicit, the stories relying on a gentle, bucolic background to emphasise the awfulness of the otherworldly intrusions. 
Ghost Stories of an Antiquary was published in 1904. 
Stories included in this volume are:
"Canon Alberic's Scrap-Book"
"Lost Hearts"
"The Mezzotint"
"The Ash-tree"
"Number 13"
"Count Magnus"
"'Oh, Whistle, and I'll Come to You, My Lad''"
"The Treasure of Abbot Thomas"
More Ghost Stories of an Antiquary was M. R. James second collection of ghost stories, and was published in 1911. 
Total Running Time (TRT): 5 hours, Reading by Peter Yearsley.
Montague Rhodes James (1862-1936), was an English medieval scholar. He is best remembered for his ghost stories, which are regarded as among the best in the genre. James redefined the ghost story for the new century by abandoning many of the formal Gothic clichés of his predecessors and using more realistic contemporary settings. However, James's protagonists and plots tend to reflect his own antiquarian interests. Accordingly, he is known as the originator of the "antiquarian ghost story".
Provlyssna
---