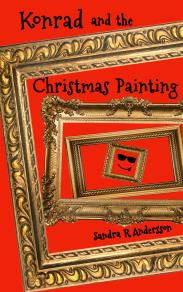 Konrad and the Christmas Painting
Christmas is only a couple of weeks away. Ms. Gundersen is in love, Philip is polite and helpful, and the world seems to be on a tilt-a-whirl when Konrad tries to readjust to reality after his visit to the Artworld. When his mother cancels Christmas, Konrad decides to try for a Christmas miracle to get her back in the holiday spirit. He's prepared to do whatever it takes to save Christmas, even work alongside Philip in order to make money for the perfect present for his mom.

But when a greedy man steals the sunglasses to rob the Artworld of all its treasures, Konrad is forced to step outside of his comfort zone -- and into a shallow pond -- to try and save his new painted friends and the Artworld from destruction. Can he get the sunglasses back before any of the precious paintings have been damaged, and can he find a way to have the perfect Christmas, the one he has been longing for all year?
---