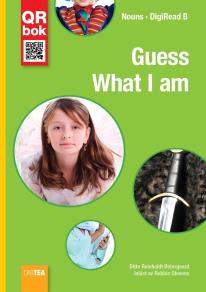 E-book
|
28 days for loan
Guess What I am - DigiRead B
I have a hat, a lasso, boots and a pistol.
What am I?
Guess What I am är anpassad till de första läsaktiviteterna på engelska från ca 2 klass. Det
språkliga temat i denna DigiRead-bok är nouns. Längst bak i boken finns det frågor som läsaren kan besvara själv eller tillsammans med en vän.
DigiRead B är anpassad till självständiga läsaktiviteter på engelska från år 2.
Boken är uppbyggd med många upprepningar och illustrationer som underlättar förståelsen av texten. Svåra ord är översatta i ordlistan längst bak i boken.

QR-bok ger läsaren möjlighet att få ljudstöd till sin självständiga läsning. Skanna QR-koden på sida 2 med en smartphone eller surfplatta och lyssna till uppläsningen. 
---