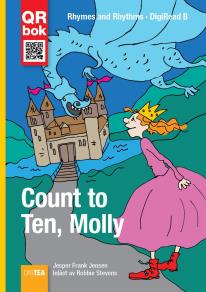 E-book
|
28 days for loan
Count to Ten, Molly - DigiRead B
Molly meets a witty witch and gets three wishes...
Count to Ten, Molly är anpassad för de första självständiga läsaktiviteterna på engelska från ca andra klass. Boken är uppbyggd med rimmade meningar och illustrationer som underlättar förståelsen av texten. Temat för denna bok är Rhymes and Rhythms.
Texten är inläst på brittisk engelska av en engelsk skådespelare. Uppläsningen kan pausas efter behov.
Digiread B innehåller enkla ord och enkel meningsbyggnad samt illustrationer som stödjer läsförståelsen. Svåra ord är översatta på den sida där de först förekommer, och andra finns i bildordlistan på sida 22-23. Dessutom framgår de av ordlistan längst bak i boken.


QR-bok ger tillgång till ljud- och filmstöd för läsarens självständiga läsning. Skanna QR-koden på sida 2 med en smartphone eller surfplatta och få åtkomst till inlästa texter.
---