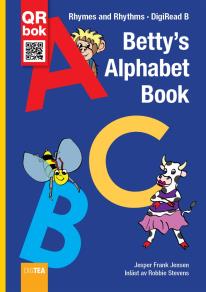 E-book
|
28 days for loan
Betty's Alphabet Book - DigiRead B
Does an ape love to eat grape? Can a mouse wear a red blouse?
Betty rhymes with the alphabet from A-Z...
Betty's Alphabet Book är en bok på rimad engelska i serien Rhymes and Rhythmes till självständiga läsaktiviteter på engelska. Boken är uppbyggd med ett enkelt språk och fotografier av sevärdheter. Temat i denna bok är det engelska alfabetet.
Texten är inläst på brittisk engelska av en engelsk skådespelare. Uppläsningen kan pausas efter behov.
DigiRead B är anpassad till självständiga läsaktiviter på engelska från år 2. Boken är uppbyggd med många upprepningar och illustrationer som stödjer läsförståelsen.
Ord som kan vara svåra att förstå är översatta på den sida där de först förekommer. Dessa ord finns även med i ordlistan längst bak i boken. Läsaren kan med fördel förberedas på dessa ord innan läsningen påbörjas.
---