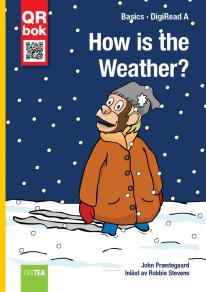 E-book
|
28 days for loan
How is the Weather? - DigiRead A
How is the Weather? introducerar läsaren till de första begreppen som behövs för att prata om vädret. Till sist uppmanas läsaren att berätta om dagens väder. Längst bak i boken kan man sjunga med på The Weather Song, där bokens begrepp används i en lyrisk kontext.
How is the Weather? är anpassad till de första självständiga läsaktiviterna på engelska från ca första klass. Det språkliga temat i denna DigiRead-bok är Basics och ger barnet de första begreppen till kommunikation om vädret på engelska.
Texten är inläst på brittisk engelska av en engelsk skådespelare. Uppläsningen kan pausas efter behov.
DigiRead A är uppbyggd med många upprepningar och illustrationer som stödjer läsförståelsen.

QR-bok ger tillgång till ljud- och filmstöd för läsarens självständiga läsning. Skanna QR-koden på sida 2 med en smartphone eller surfplatta och få åtkomst till inlästa texter.
---