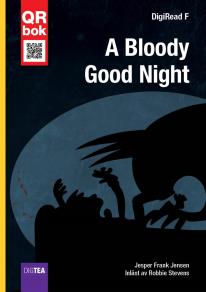 E-book
|
28 days for loan
A Bloody Good Night - DigiRead F
It's close to midnight. Calvin is wide awake and can't fall asleep. Something is different. The house is full of scary noises. Some of them come from his granddad next door. Suddenly he hears footsteps. What kind of creature could it be?

"A Bloody Good Night" är anpassad för självständiga läsaktiviteter på engelska från ca sjätte klass, men med hjälp av ljud-stöd från QR-koden kan den också användas tidigare.

Svåra ord är översatta på de sidor där de förekommer första gången, men går också att finna i ordlistan längst bak i boken. Läs eventuellt boken först för att skapa dig en bild av vad den handlar om, och arbeta därefter med orden i ordlistan.
---