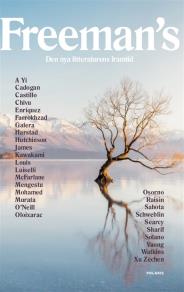 Isbn:
978-91-8864-751-1
Publisher:
Bokförlaget Polaris
Category:
Short stories
Accessible since:
August 2017
---
Freeman's: Den nya litteraturens framtid
Bokförlaget Polaris har fått äran att låta översätta och ge ut John Freemans litterära tidskrift "Freeman"s" i Sverige. I denna tidskrift introducerar John Freeman de främsta nya stjärnorna på literaturhimlen, inom poesi och prosa.
John Freeman var tidigare redaktör för Granta, en av världens främsta litterära tidskrifter. Han är även författare och föreläsare samt ordförande i National Book Critics i USA. John Freeman skriver regelbundet i New Yorker, the New York Times, and the Paris Review.
Read sample
(Download)
---