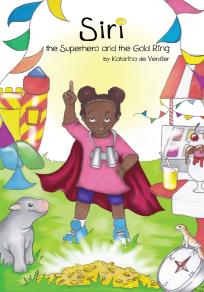 E-book
|
28 days for loan
Siri, the Superhero and the Gold Ring
Siri is a curious and creative girl who gladly helps when needed. Join Siri on four exciting adventures in middle-class Kenya. Great for reading out loud together. 

"They chose a table near the bouncy castle. Siri ordered a mango juice and then ran off to bounce. At the bouncy castle she caught sight of someone she had hoped to meet there.
'Lee! Lee!' she cried, waving her arms.
A big grin spread over Lee's face. He jumped up and hugged Siri so hard that they both fell down laughing.
They started chasing each other on the bouncy castle.Then they had a competition to see who could cling on the longest to the inflatable elephant that formed part of the bouncy castle. Suddenly, they heard a loud shout. Everyone fell silent. What was that? Siri saw a shadow swoop over the ground. She looked up just in time to see a big bird flying away with a shiny object in its beak."
---