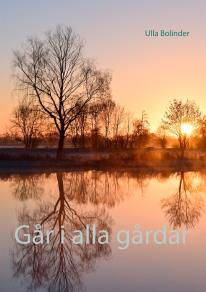 Isbn:
978-91-7569-430-6
Publisher:
Books on Demand
Category:
Crime & Mystery
Accessible since:
December 2016
---
E-book
|
28 days for loan
Går i alla gårdar
Året är 1957. I en liten uppländsk by sprider sig rädslan och oron  när en av byns kvinnor hittas misshandlad och död på en äng. Vem kan ha gjort sig skyldig till detta illdåd? Flera personer anhålls men måste släppas igen i brist på bevis eller sedan deras alibin styrkts. Fallet tycks förbli ouppklarat, och i byn växer sig misstänksamheten och skvallret allt starkare. Lösningen finns inom räckhåll, men de små, lösryckta  detaljerna, som tillsammans avslöjar vad som verkligen hände, är svåra att upptäcka. Frågan är om det någonsin kommer att ske.


GÅR I ALLA GÅRDAR är, förutom en berättelse om ett brott, en verklighetstrogen tidsskildring som med stor detaljrikedom och genuin atmosfär ger en bild av livet på 1950-talet då det svenska folkhemmet byggdes och framtidstron var ljus och stark.

Ulla Bolinder är född och uppvuxen i Uppsala men bor numera i Knivsta, några mil norr om Stockholm. Hon gick humanistisk linje på Magdeburg och har sedan dess arbetat på reklambyrå, restaurang, sjukhus, arkiv och bokförlag. Ulla debuterade som författare 1997. I sina böcker tar hon gärna upp samhällsfrågor med betoning på den enskilda individen.

Ulla Bolinder is a Swedish author, born in Uppsala but today living in Knivsta, not far from Stockholm. She has been working at advertising agency, restaurant, hospital, archives and publishing house. Ulla's first novel was published in 1997. In her books she often deals with social issues with emphasis on the individual.
---