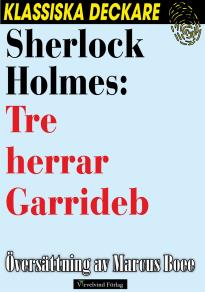 Isbn:
978-91-7677-264-5
Publisher:
Virvelvind Förlag
Category:
Crime & Mystery
Accessible since:
May 2016
---
Sherlock Holmes: Tre herrar Garrideb
Detektiven Sherlock Holmes blir anlitad av en herr Garrideb för att hitta fler personer med samma namn.

Genom att ställa tre personer med samma efternamn på samma plats kan de få ut ett arv som gör dem alla till mångmiljonärer.
 
De märkliga omständigheterna gör att mästerdetektiven genast tar sig an fallet med "de tre Garridebs".  

När han tillsammans med sin kollega Watson arbetar med fallet råkar de både ut för skottskador, mördare, mängder av lögner och en hel del komik.
 
Den här berättelsen skrevs av författaren Arthur Conan Doyle, (1859–1930), och publicerades första gången på engelska år 1924 med "The Adventure of the Three Garridebs". Arthur Conan Doyle var ursprungligen läkare och skapade rollfigurerna Sherlock Holmes och doktor Watson med några av sina kollegor och lärare som förebilder.     

Den här översättningen till svenska gjordes av Marcus Boee, en svensk författare och journalist.  
Vid översättningen har målet varit att så mycket som möjligt bevara det svenska språkbruket som användes då texten skrevs i början av 1900-talet.


---