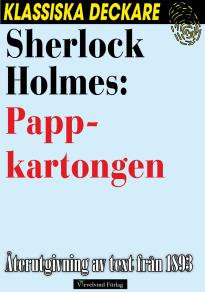 Isbn:
978-91-7677-266-9
Publisher:
Virvelvind Förlag
Category:
Crime & Mystery
Accessible since:
April 2016
---
E-book
|
28 days for loan
Sherlock Holmes: Pappkartongen
När en kvinna i London får ett mystiskt paket som innehåller två människoöron kontaktar polisen genast Sherlock Holmes.   

Inom några timmar upptäcker mästerdetektiven spår som polisen missat.

Fallet med "Pappkartongen" är en av de minst kända berättelserna om Sherlock Holmes trots att den publicerades redan 1893.
En av anledningarna till att den är relativt okänd är den på sin tid mycket kontroversiella handlingen.
De sexuella anspelningarna gjorde att författaren själv under flera decennier stoppade  ytterligare publiceringar.    
 
Den här berättelsen skrevs av författaren Arthur Conan Doyle, (1859–1930), och publicerades första gången på engelska år 1893 med titeln "The Adventure of the Cardboard Box". Arthur Conan Doyle var ursprungligen läkare och skapade rollfigurerna Sherlock Holmes och doktor Watson med några av sina kollegor och lärare som förebilder.     

Den här svenska texten publicerades med titeln "Historien om pappasken" i novellsamlingen "Min vän privatdetektivens äventyr. Ny serie" år 1893. Texten översattes till svenska av signaturen "O. S." som användes av Alfred Oscar Sandberg (1865–1922).  Det här var den allra första publiceringen av "Pappkartongen" på svenska.

I den här e-boken publicerar vi originalets text ordagrant och helt utan ändringar, alla namn, uttryck och till och med felstavningar har behållits.
---