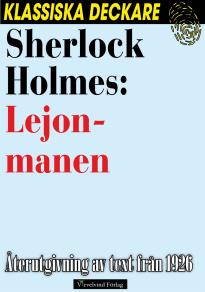 Isbn:
978-91-7677-261-4
Publisher:
Virvelvind Förlag
Category:
Crime & Mystery
Accessible since:
April 2016
---
E-book
|
28 days for loan
Sherlock Holmes: Lejonmanen
Detektiven Sherlock Holmes har pensionerat sig och bor i en enslig stuga på den engelska landsbygden.  

En dag blir han vittne till hur en av hans bekanta dör mycket dramatiskt.

Fallet med "Lejonmanen" blir ett av mästerdetektivens svåraste eftersom dådet skedde på några minuter och utan några vittnen.

Den enda ledtråden är den döendes mystiska sista ord: "Lejonmanen".

Den här berättelsen skrevs av författaren Arthur Conan Doyle, (1859–1930), och publicerades första gången på engelska år 1926 med titeln "The Adenture of the Lion's Mane". Arthur Conan Doyle var ursprungligen läkare och skapade rollfigurerna Sherlock Holmes och doktor Watson med några av sina kollegor och lärare som förebilder.     

Den här svenska texten publicerades i tidningen Dagens Nyheter i december 1926 med titeln "Lejonmanen".


---