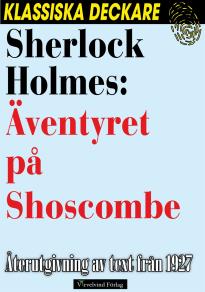 Isbn:
978-91-7677-262-1
Publisher:
Virvelvind Förlag
Category:
Crime & Mystery
Accessible since:
April 2016
---
E-book
|
28 days for loan
Sherlock Holmes: Äventyret på Shoscombe
En klient blir oroad när ägarinnan till herrgården Shoscombe börjar bete sig allt  märkligare. Hon ändrar vanor, visar sig sällan utomhus och börjar dricka.

Han bestämmer sig för att anlita Sherlock Holmes när man upptäcker att lik blivit upptagna ur sina gravar och att någon bränt skelettdelar i en ugn.

Deckaren tar genast itu med "Äventyret på Shoscombe" och upptäcker snart ledtrådar som får honom att misstänka det värsta.

Den här berättelsen skrevs av författaren Arthur Conan Doyle, (1859–1930), och publicerades första gången på engelska år 1927 med titeln "The Adventure of the Shoscombe Old Place". Arthur Conan Doyle var ursprungligen läkare och skapade rollfigurerna Sherlock Holmes och doktor Watson med några av sina kollegor och lärare som förebilder.     

Den här svenska texten publicerades som följetong i Dagens Nyheter i april 1927 med titeln "Äventyret på Shoscombe".  


---