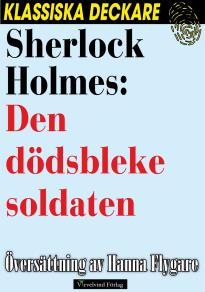 Isbn:
978-91-7677-258-4
Publisher:
Virvelvind Förlag
Category:
Crime & Mystery
Accessible since:
April 2016
---
E-book
|
28 days for loan
Sherlock Holmes: Den dödsbleke soldaten
En krigsveteran blir misstänksam när en kamrat från kriget försvinner mystiskt bara några veckor efter hemkomsten.

Han anlitar därför detektiven Sherlock Holmes.

Trots att det bara finns några få ledtrådar så är Holmes mycket fort säker på vad som hänt.

I fallet med "Den dödsbleke soldaten" får du läsa en av mycket få berättelser som skrevs av mästerdetektiven själv.

Den här berättelsen skrevs av författaren Arthur Conan Doyle, (1859–1930), och publicerades första gången på engelska år 1926 med titeln "The Adventure of the Blanched Soldier". Arthur Conan Doyle var ursprungligen läkare och skapade rollfigurerna Sherlock Holmes och doktor Watson med några av sina kollegor och lärare som förebilder.     

Den här svenska texten publicerades som följetong i Dagens Nyheter i november 1926 med titeln "Den bleke soldaten".  

Den här översättningen till svenska gjordes av Hanna Flygare (1843–1925). Trots att Hanna Flygare bara var verksam från 53 års ålder var hon en av 1900-talets flitigaste översättare med över 200 titlar. Hon översatte allt från populär litteratur som Sherlock Holmes och Dr Jekyll till mer avancerade böcker av Leo Tolstoj och Charles Dickens.   


---