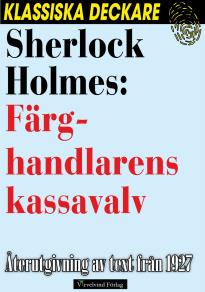 Isbn:
978-91-7677-259-1
Publisher:
Virvelvind Förlag
Category:
Crime & Mystery
Accessible since:
April 2016
---
E-book
|
28 days for loan
Sherlock Holmes: Färghandlarens kassavalv
Det här är ett av de minst kända äventyren med mästerdetektiven Sherlock Holmes.

En pensionerad affärsman anlitar Holmes när hans fru och hennes älskare försvinner spårlöst – tillsammans med hela hans förmögenhet.  

I berättelsen om "Färghandlarens kassavalv" får du läsa ett av få fall där en upptagen Sherlock inte bara skickar ut sin kollega doktor Watson på uppdrag, han anlitar också den mystiske kollegan mr Barker.

Det dröjer dock inte länge innan spåren leder deckaren till en lösning som ingen inblandad hade väntat sig.  

Den här berättelsen skrevs av författaren Arthur Conan Doyle, (1859–1930), och publicerades första gången på engelska år 1926 med titeln "The Adventure of the Retired Colourman". Arthur Conan Doyle var ursprungligen läkare och skapade rollfigurerna Sherlock Holmes och doktor Watson med några av sina kollegor och lärare som förebilder.     

Den här svenska texten publicerades i Dagens Nyheter i januari 1927 med titeln "Historien om den gamle färghandlaren".  


---