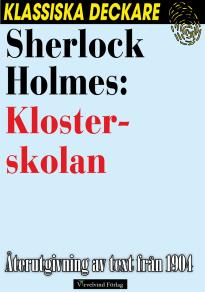 Isbn:
978-91-7677-149-5
Publisher:
Virvelvind Förlag
Category:
Crime & Mystery
Accessible since:
April 2016
---
E-book
|
28 days for loan
Sherlock Holmes: Klosterskolan
Sonen till en av Englands mäktigaste män försvinner från sin internatskola och den förtvivlade rektorn anlitar Sherlock Holmes.  

Det dröjer inte länge förrän mästerdetektiven hittar många små ledtrådar och spår som polisen har missat.

Det här är en av de allra mest omdebatterade Sherlock Holmes-berättelserna på grund av de cykelspår som hjälper honom lösa fallet. Än i dag diskuteras om det är möjligt att på cykelspår kunna avgöra åt vilket håll färden gick.   

Den här berättelsen skrevs av författaren Arthur Conan Doyle, (1859–1930), och publicerades första gången på engelska år 1904 med titeln "The Adventure of the Priory School". Arthur Conan Doyle var ursprungligen läkare och skapade rollfigurerna Sherlock Holmes och doktor Watson med några av sina kollegor och lärare som förebilder.     

Den här svenska texten publicerades som följetong i Svenska Dagbladet under februari år 1904 med titeln "Den återuppståndne Sherlock Holmes V. Det försvunna barnet".  


---