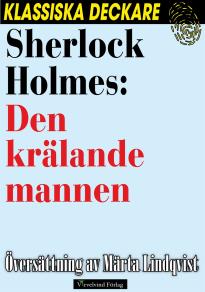 Isbn:
978-91-7677-108-2
Publisher:
Virvelvind Förlag
Category:
Crime & Mystery
Accessible since:
March 2016
---
E-book
|
28 days for loan
Sherlock Holmes: Den krälande mannen
Doktor Watson får ett meddelande att Sherlock Holmes behöver brådskande hjälp och han skyndar direkt till sin vän.
Han blir mycket förbryllad när han inser att fallet vare sig handlar om ett blodigt mord, stulna juveler eller kidnappade miljonärer. Fallet som mästerdetektiven utreder handlar om en hund som attackerat sin husse, en känd professor.

Men snart upptäcker de båda allt fler mystiska detaljer och det visar sig att fallet blir ett av de märkligaste i Sherlock Holmes karriär.

Den här berättelsen skrevs av författaren Arthur Conan Doyle, (1859–1930), och publicerades första gången på engelska år 1923 med titeln "The Adventure of the Creeping Man". Arthur Conan Doyle var ursprungligen läkare och skapade rollfigurerna Sherlock Holmes och doktor Watson med några av sina kollegor och lärare som förebilder.     

Den här översättningen till svenska publicerades år 1923 och gjordes av Hanna Flygare (1843–1925) samt Märta Lindqvist (1888–1939). Hanna Flygare var en av 1900-talets flitigaste översättare med över 200 titlar. Märta Lindqvist var framför allt känd som kolumnist i Svenska Dagbladet. Men hon var också en flitig översättare med både norske Knut Hamsun och berättelserna om Arsène Lupin på sin meritlista.


---