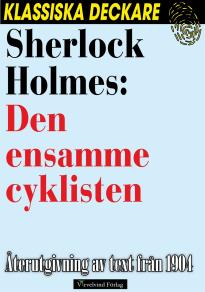 Isbn:
978-91-7677-148-8
Publisher:
Virvelvind Förlag
Category:
Crime & Mystery
Accessible since:
March 2016
---
E-book
|
28 days for loan
Sherlock Holmes: Den ensamme cyklisten
Musiklärarinnan Violet Smith anlitar Sherlock Holmes när hon upptäcker en mystisk cyklist som förföljer henne varje vecka på väg till tåget.

Detektiven tycker att fallet låter mycket intressant och skickar sin kollega dr Watson till hennes hemby för att ta reda på mer.

Det visar sig snart att fallet är mycket allvarligare än någon anat.

Den här berättelsen skrevs av författaren Arthur Conan Doyle, (1859–1930), och publicerades första gången på engelska år 1903 med titeln "The Adventure of the Solitary Cyclist". Arthur Conan Doyle var ursprungligen läkare och skapade rollfigurerna Sherlock Holmes och doktor Watson med några av sina kollegor och lärare som förebilder.     

Den här svenska texten publicerades som följetong i Svenska Dagbladet i januari 1904 med titeln "Den återuppståndne Sherlock Holmes. IV. Den hemlighetsfulle cyklisten".   


---