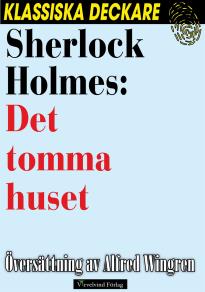 Isbn:
978-91-7677-155-6
Publisher:
Virvelvind Förlag
Category:
Crime & Mystery
Accessible since:
March 2016
---
E-book
|
28 days for loan
Sherlock Holmes: Det tomma huset
Den här deckaren utspelar sig några år efter det dramatiska besöket vid Reichenbachfallet då superboven Moriarty och Sherlock Holmes faller till sin död.

Doktor Watson försöker utreda ett mystiskt mord på en adelsman men kommer ingen vart.
Då får han sitt livs överraskning när den dödförklarade Sherlock plötsligt dyker upp livs levande i vardagsrummet.
Mästerdetektiven har låtsats vara död för att kunna sätta fast Londons näst farligaste brottsling och nu behöver han sin kollega Watsons hjälp.

Den här berättelsen skrevs av författaren Arthur Conan Doyle, (1859–1930), och publicerades första gången på engelska år 1903 med titeln "The Adventure of the Empty House". Arthur Conan Doyle var ursprungligen läkare och skapade rollfigurerna Sherlock Holmes och doktor Watson med några av sina kollegor och lärare som förebilder.     

Den här svenska texten publicerades i novellsamlingen "Den återuppståndne Sherlock Holmes" år 1930. Berättelsen översattes av Alfred Wingren (1881–1928).


---