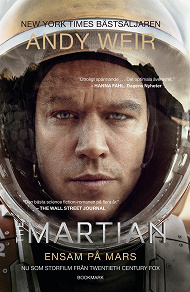 The Martian : ensam på Mars
Över 20 000 femstjärniga läsarrecensioner i USA. Nu finns den internationella science fiction-succén äntligen på svenska!

Efter en misslyckad rymdexpedition lämnas Mark Watney ensam kvar på Mars. Hans besättning är övertygad om att han är död, men Mark Watney lever; i alla fall för tillfället. Utan möjlighet att kunna kommunicera sin belägenhet med jorden inser han snart att han måste utnyttja alla sina kunskaper för att överleva. Utrustad med en stor portion skarpsinne, och en ännu större dos självironi, ger sig Mark Watney i kast med att utmana den röda planetens ogästvänliga miljö med målet att en dag kunna återvända hem.

2015 hade filmatiseringen av romanen i regi av Ridley Scott och med Matt Damon i rollen som Mark Watney premiär.

Ensam på Mars är bland de mest fängslande ensamhetsskildringar jag läst ...Hanna Fahl, Dagens Nyheter

Den bästa science fiction-romanen på flera år! The Wall Street Journal

Ensam på Mars blev framröstad till bästa bok i sin genre 2014 av Goodreads 35 miljoner medlemmar.
---